There's something to be said about the "easy apply" job era. With the appeal of simplicity comes even more options, and in turn — much less effort. Why not apply to anything and everything if it only takes one click?
When it came to my turn to be on the hunt for a new job 18 months ago, I was thrown into a world I had not been part of since graduation. Previous roles came to me through my network. A few interviews later, and you're in; not much to be done in terms of search.
I took the departure from my previous role without any backups. Beyond hitting a few of those "one-click applies," I was in at the deep end and learning how to swim.
After a few weeks and a holiday or two later, it was time. Time to decide where I would spend hours every day, where I would say I worked when meeting people, and what would be at the head of my LinkedIn profile.
I sat at my desk and began my search.
Luckily for me, I knew my strengths. I didn't know a lot about looking for jobs, but I knew sales. I've learned how to create an opportunity from nothing and ride it all the way through the close.
So, that's where I started. I decided to treat finding a new job like finding a new B2B sales opportunity. In this article, I'll share the five steps I took to close the VP of Sales job at Kolide:
Ideal Company profile
Target List
Prospecting
Qualified Pipeline
Close
Creating an ideal company profile starts with your "must-have" characteristics list. In this case, I noted all of the variables I wanted in my next role.
Here's what I came up with.
I knew I wanted to be involved in sales for a B2B SaaS startup. I acquired a significant amount of experience in my previous role, but I left with an unfinished feeling. I had a plan I couldn't follow through with — and I wanted to try again from the beginning.
My list of wants continued. I wanted a…
product designed for all users within a company
product with low cost per seat, but an enormous deployment opportunity
shorter sales process than Enterprise sales — to close deals more frequently
product first CEO
In addition to my want list, I added companies that would allow me to deploy my strengths: relationship-building and visionary action. I created a plan from this — I decided that to be successful and land a role that met my want list, I needed to get to the top.
I needed to get to a startup's CEO and then paint my vision for them. Show them upfront that they were already missing something I could deliver. By not having sales, they were hurting sales, not just missing sales. My goal wasn't to convince them they needed me. I wanted to convince them that they needed my profile to succeed.
I knew from experience and research that startups often get lured into thinking they need their first salesperson to be from big companies. They believe they need someone who works in large teams and can bring process, enterprise experience, and big logo chops. They'll often get encouragement from their investors to follow this path.
The fallacy here is that the startup will go from $100K ARR to $100M ARR in no time, and they "need someone who can scale a team to $100M ARR". This is faulty thinking. There are a dozen other phases between $100K and $100M.
The path from $100K to $1M is bumpy. Nothing is defined, you don't yet have product-market-fit, and significant prospects can pull you all over the place like a small sailboat in a storm. Then from $1M to $5M, $5M to $10M, and so on. I would need to convince them they needed someone who had been at the stage they were at and the next.
With my wants list and an initial plan created, the next step was to create a target list of companies that matched my vision.
Vision and easy-apply do not go hand in hand. My goal was to win over the CEO of a startup with my experiences and future plan. I couldn't do this by filling out one "how many years of experience do you have?" field. I quickly knew that the "apply to anything and everything" approach wasn't going to work for me.
A target list in B2B sales isn't 100–200 companies that you send automated templates to. You take 10–20 aligned accounts. You research them, learn about them, and understand the stakeholders. You have to do this to understand their pain points — and how your solution can heal them.
I took these expectations in alignment with job searching. In the same breath, I could hit "apply" to 100 companies I maybe liked — I could concentrate on ten companies I knew I wanted.
The best part about staying concentrated on a few companies that I knew I'd be happy to be a part of is they didn't even need to have a sales role open. My goal wasn't to find their careers tab on their website and apply. My goal was to get to that CEO and show them what they needed before they even knew they needed it.
I believed that product-led CEOs would be so busy on the product/engineering side, they might not know when to hire for sales, and likely some were even intimidated by the prospect. I would make the process easy for them.
I won't bore you with the complete list I came up with. The list was mostly made up of apps, companies, or solutions I'd come across that had caught my attention — and Kolide was atop of that list.
My previous company had recently deployed Kolide. It was the very first company-wide software that had been implemented at that 180-employee company. When I was asked to enroll in my company's endpoint monitoring system, I was pleasantly surprised by the user-focused approach and the control of the device being left to the user. It was a system I believed in.
I recall chatting to the CTO about Kolide as we rolled it out, and he was visibly excited. He explained that we needed to sharpen our compliance game due to pressure from our largest customers, but he was very resistant to device management. He knew it would damage the engineering organization's culture, which was a company asset too valuable to break.
Kolide, he explained, had this fantastic approach to messaging people through Slack to remediate their compliance issues. There was no new software for end-users to learn, no new portal to remember to access. It was all via Slack, simple as that.
I was excited. It was very novel, but felt so obvious when I thought about how much time I spent in Slack talking to all my other colleagues. It's where I was spending my time and the best place to get hold of me if action on my device was needed. It was a brilliant collaboration.
It took a few weeks, but I had my target list completed. It was time to research my marks. I started with Kolide, where I quickly found Jason, the CEO, on LinkedIn. As you would expect, I started with a simple LinkedIn message: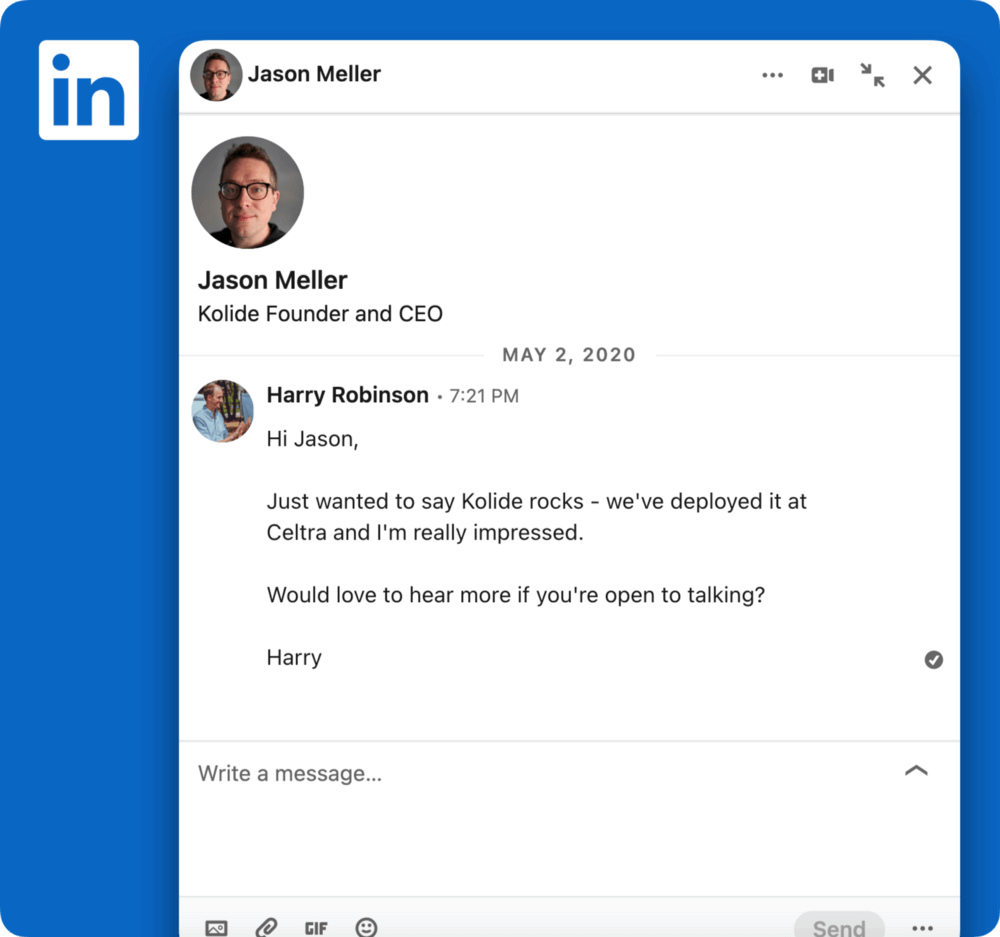 A quick attempt to see if he would bite.
He didn't.
After a week or so, I'd not heard back. Not defeated so quickly, I sent a follow-up message.
—
Nothing.
Now what? Luckily for me, there were multiple forms of social media. I decided to search around and see what socials Jason was active on — Twitter, it turns out. I decided to reach out to him there, a place he was probably not expecting prospective applicants to go. I sent him the following: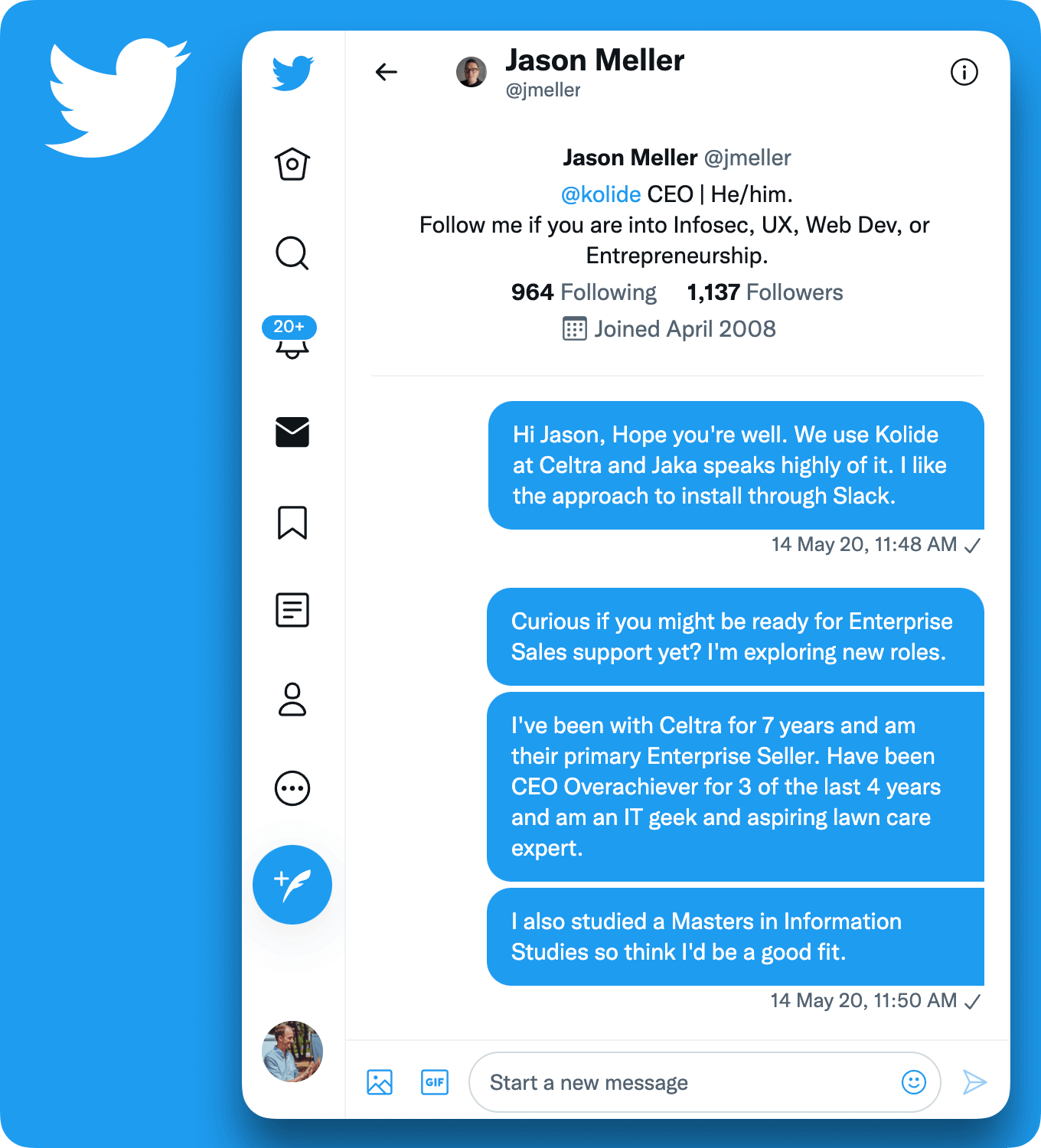 Silence
Jason wasn't too chatty at this moment. I decided it was time for a more direct approach. With the power of the internet, I found his email. I wanted to add a bit more of my personality to this email. Feeling hopeful, I sent the following message along with my CV.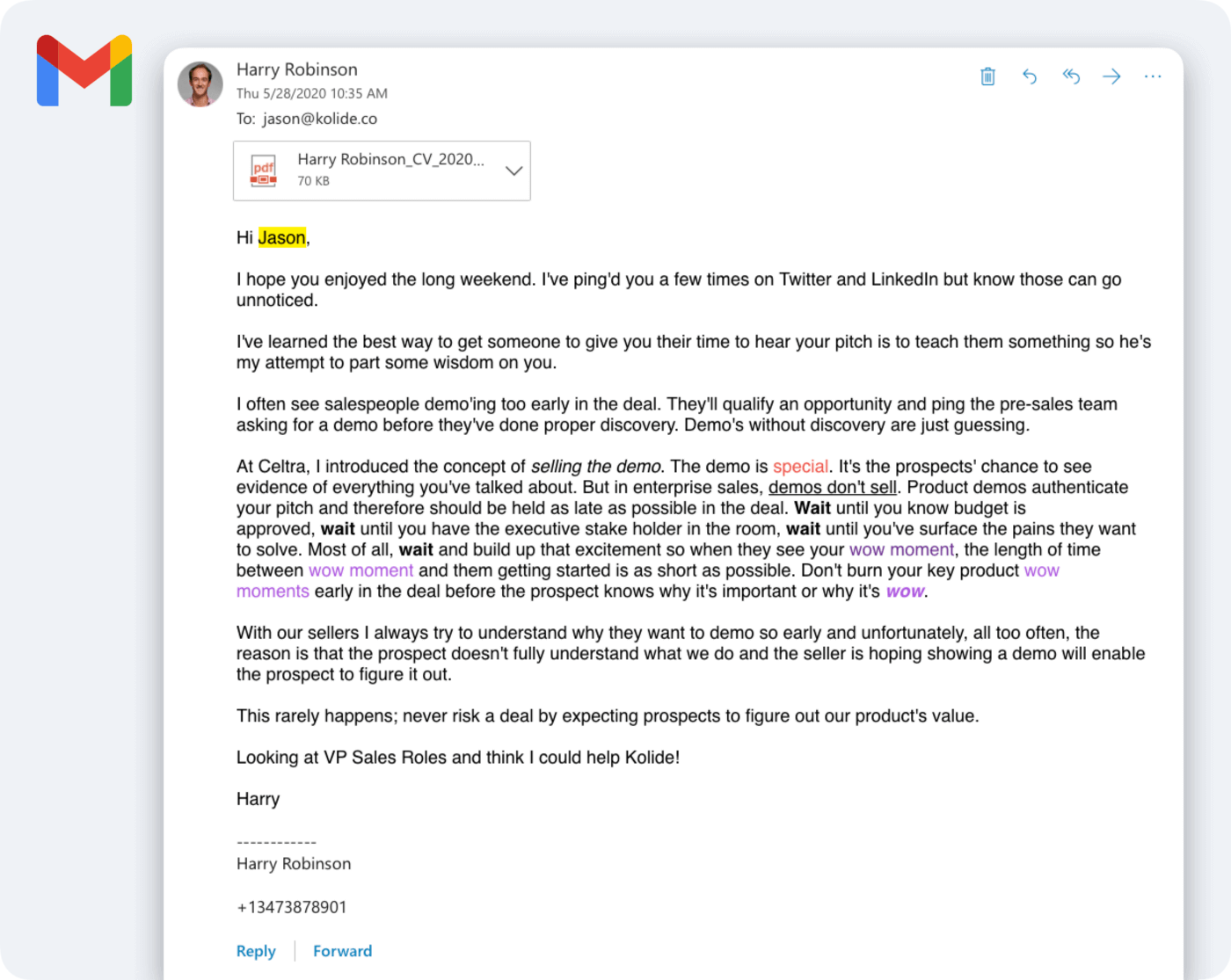 No response.
Not to worry, it was time to deploy the infamous follow-up email.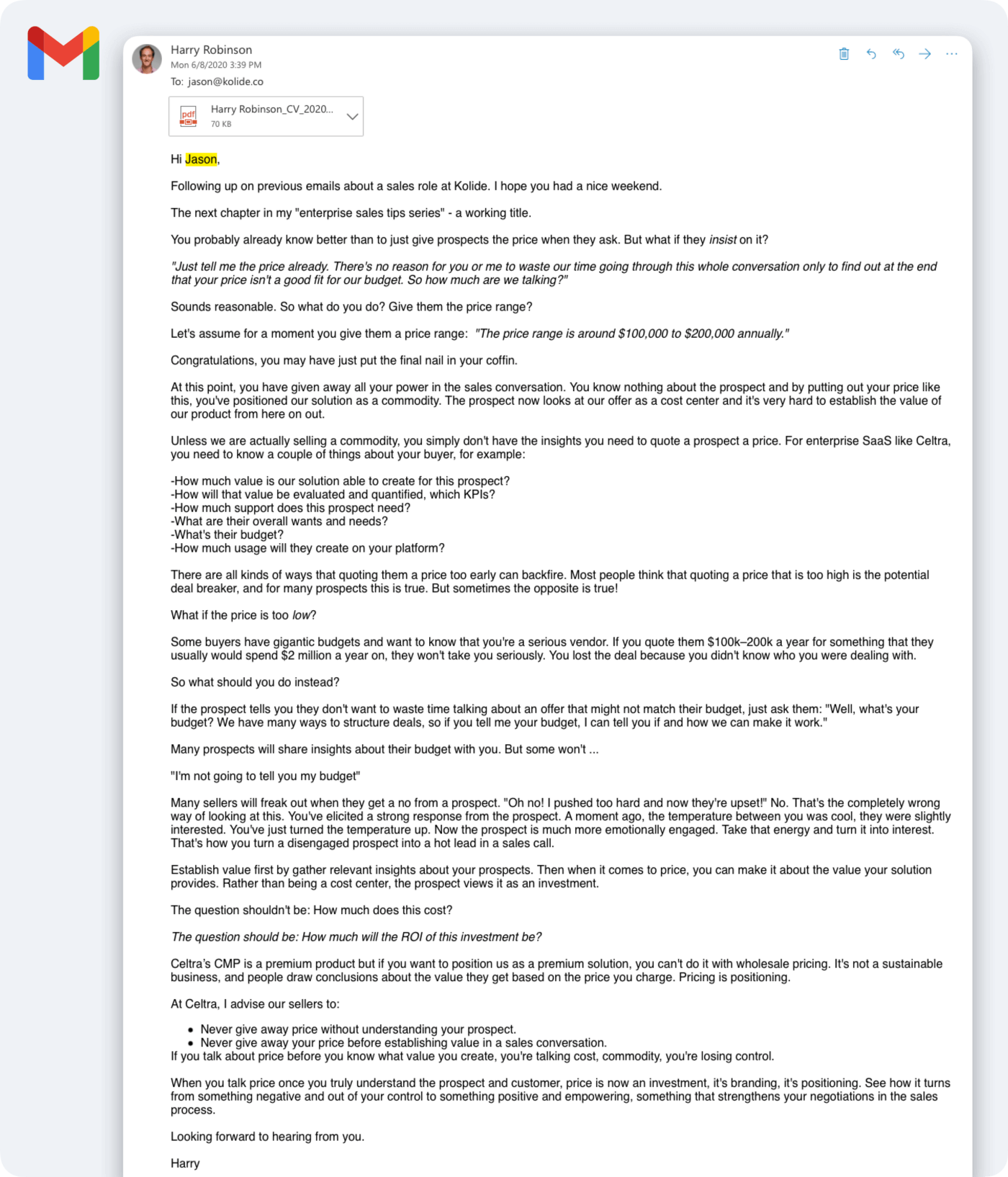 You guessed it. There was not even a brush off of a response.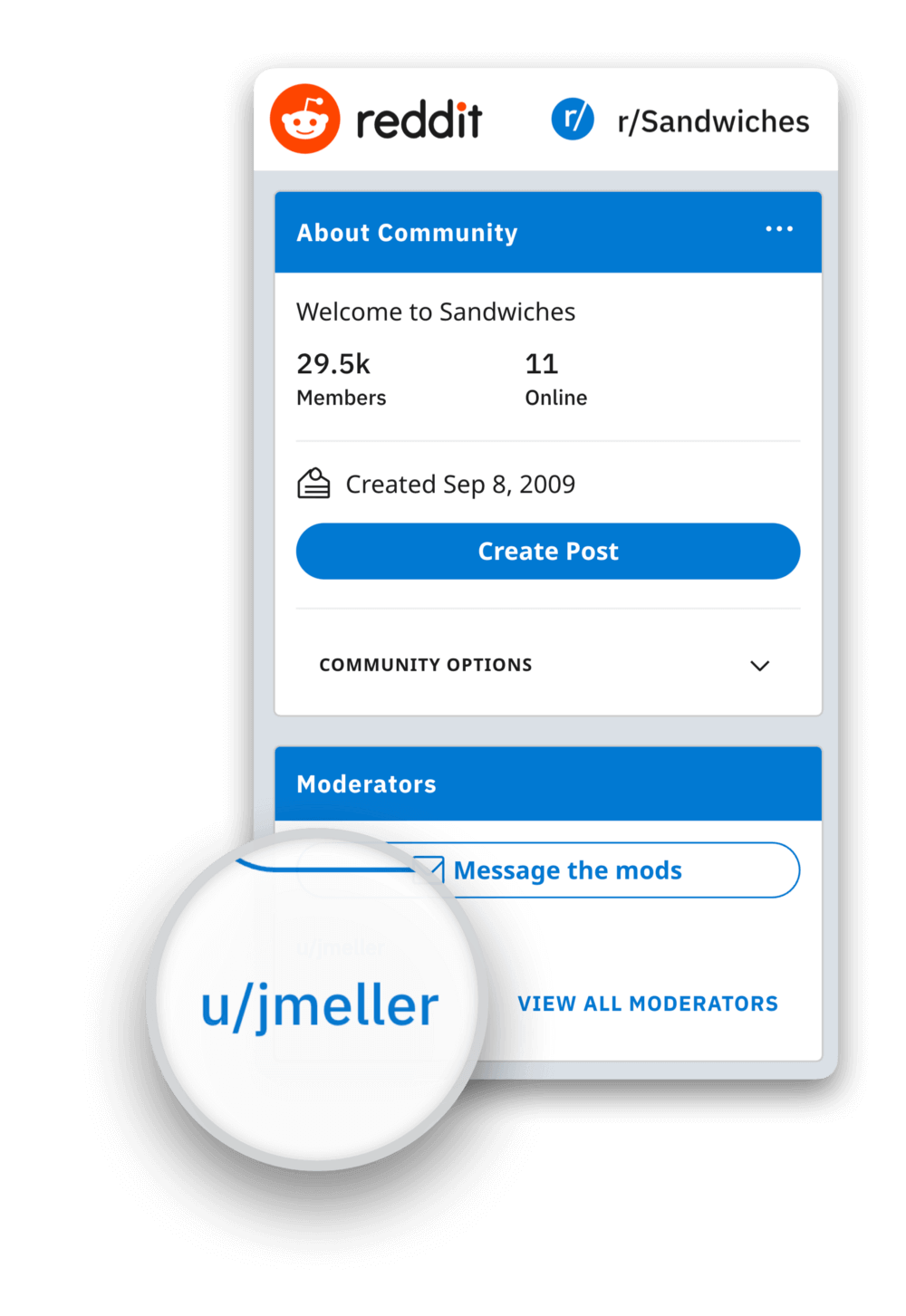 I knew that I hadn't exhausted all my avenues, so I wasn't prepared to give up yet. It was the salesman in me and the dedication to get the right role with the right company that was going to help define my career. It was worthy of pursuit.
Lastly, I searched on Reddit, where users have anonymous usernames and was able to piece together enough Kolide related comments to believe the admin of r/sandwiches was my mark.
So, I messaged the mod.
And I got nothing. I was running out of options, and quite honestly, my hope was dwindling.
My last play (short of going to his house, which definitely would not have gone well) was to go back to the CTO of my previous company and ask him for an introduction to his Kolide account manager.
This email followed:

I received the following back: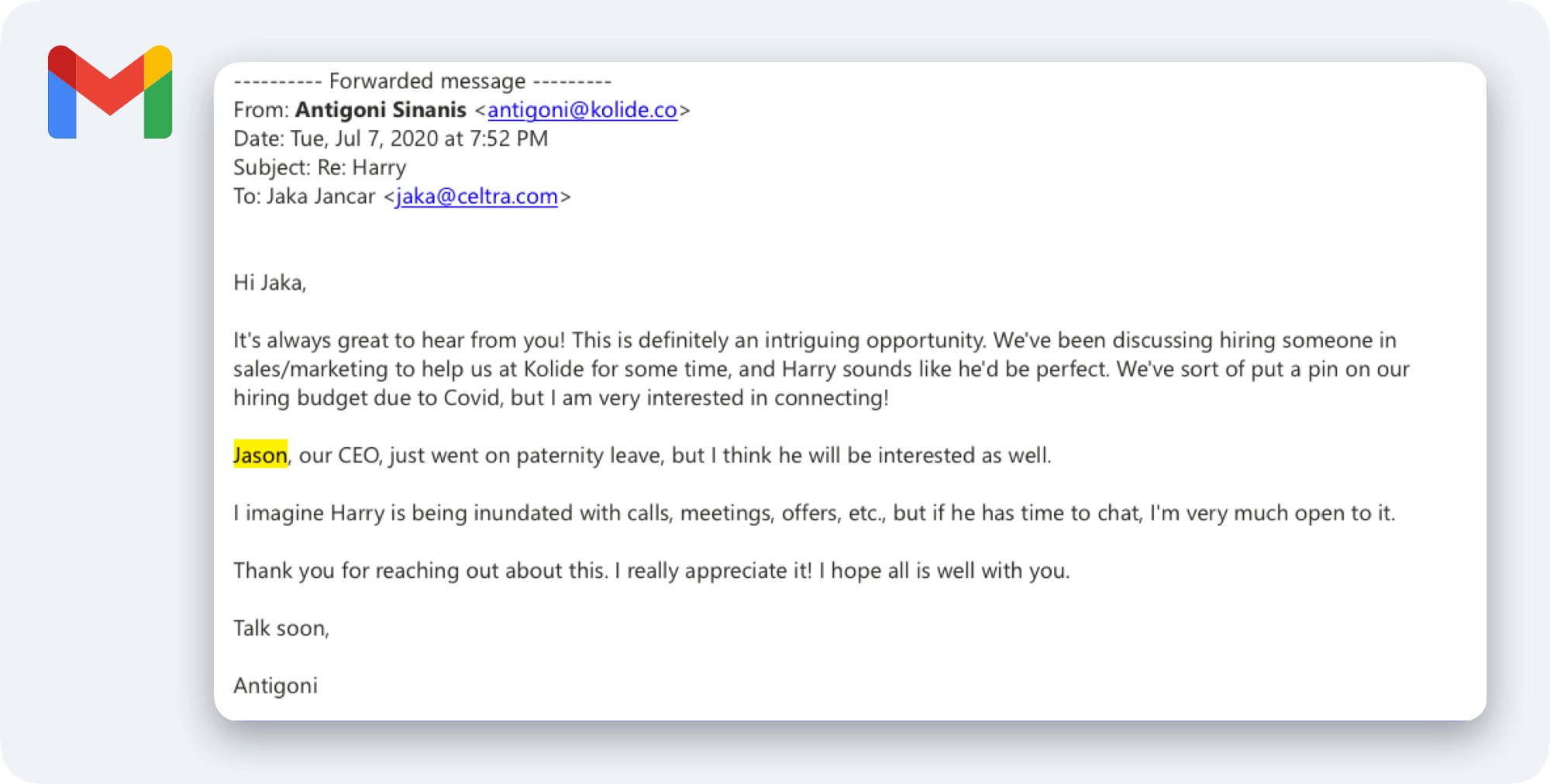 After a few back and forths with Antigoni, I finally connected with Jason.

And the rest, as they say, is history.
The lesson to take from this exchange is:
Network, network, network, knowing someone by a few degrees can give you the credibility to change your entire career.

You can find anything on Google, Twitter, emails, Reddit accounts…
The first call with Jason was a hit. They weren't looking for a sales hire, but I could see a way of convincing Jason that taking a sales hire earlier than expected would be a good thing. Next, it was time to work this opportunity through the pipeline to the close. I pulled out every sales tactic I had.
I filled my follow up emails with great SaaS sales content, not just self-bragging: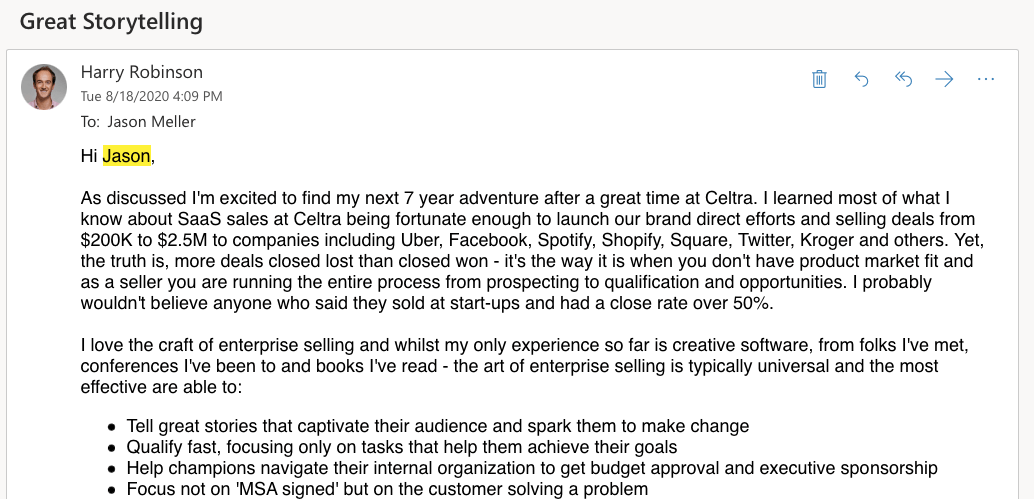 Following my advice, I had sent Jason in my initial email; I didn't demo too early. I saved my best highlights for when I sensed a moment of doubt: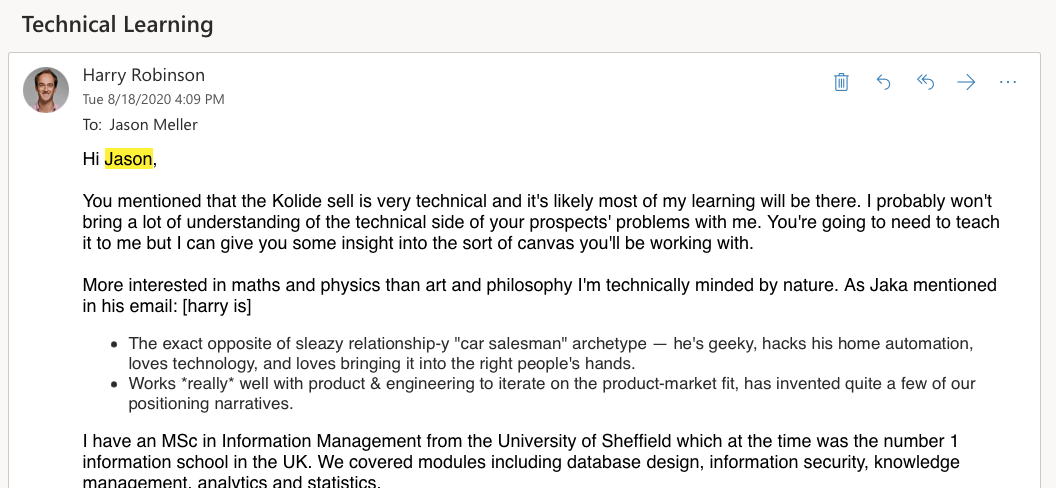 Finally, I deployed my final weapon right at the end. Testimonial. My research surfaced a connection between Kolide's primary investment partner and one of Celtra's that knew me well. I timed this reference to go across shortly before meeting with Kolide's lead investor at Matrix Partners.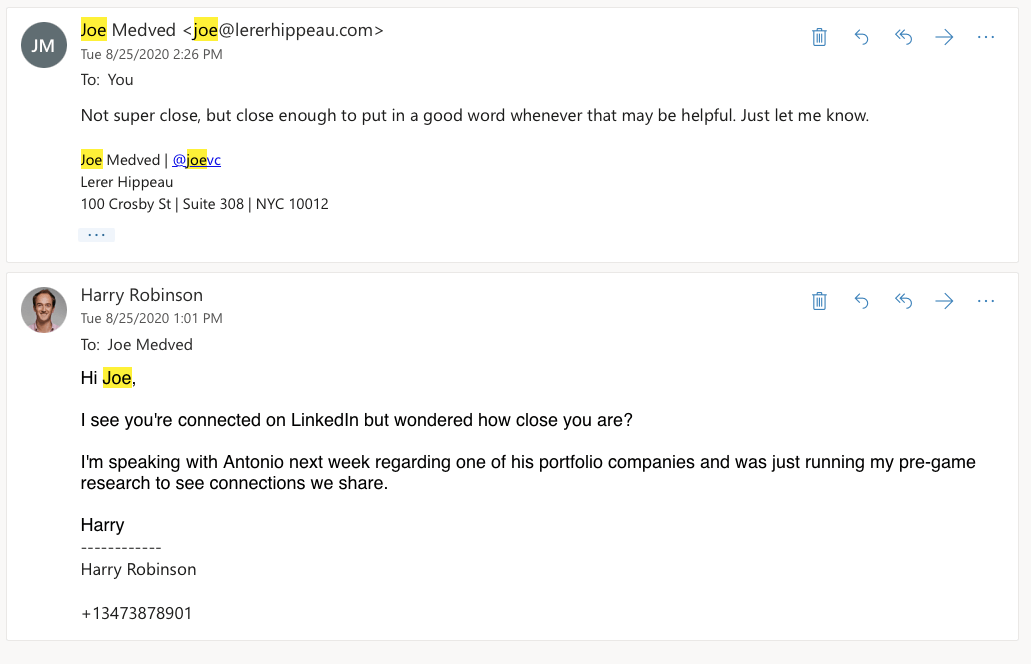 Most importantly, I used each stage to demonstrate my skills for the role.
On September 3rd, 2020, I received an offer to join Kolide as their first sales hire.
Fourteen months later, it has been a career-changing experience. I was right to stay focused in my job search. I am an excellent fit for Kolide — Kolide is an excellent fit for me. Now, I have the opportunity to do what I set out to do; bring my vision to life. Now, I have the chance to look forward to each new day working with Kolide.
When push came to shove, and I was sent to the job search world, I didn't know what to expect. I started from the beginning, so I stuck to what I knew. I knew sales, I knew the process of creating an opportunity where there wasn't one, and that's what I did.
Here's my advice on how you can do it, too. Make a shortlist of companies you are excited about, ensuring that each company needs what you are selling: your experience and your ability.
If a role only lets you use 50% of your abilities, you're wasting 50% of what you can offer. The role I found at Kolide allows me to use 100% of my abilities, which leaves me feeling fulfilled and excited to give my energy to build a company that I believe in.