Changelog
Native Mac M1 Kolide Agent Now Available!
Happy Holidays, Kolide Members!
It has been a little over 5 weeks since Apple announced the M1 based Macs, and while we already have had a number of these devices enroll in Kolide using our intel-based agent, we are pleased to report that we are now distributing our agent so it runs natively on M1 based Macs. 
Going forward, all Kolide agents on version 0.11.15 or greater will be built as a universal binary, which will ensure that no matter which Mac you have, the binary will execute a native instruction set. This new native build should resolve the occasional instability we've seen running on the Intel-based agent under Rosetta 2. 
While this is an important milestone, you will still need Rosetta 2 on M1 Macs to run the osquery portion of our agent. We look forward to a future where this won't be necessary, and will keep you apprised of any relevant announcements from the osquery team. With that said, in our testing, osquery continues to run great on M1 Macs with Rosetta 2 emulation.
If you already have the agent installed on the M1 based Mac, you likely don't need to do anything! If it hasn't already, the new version of the agent (0.11.15) will automatically install through the auto-update process. 
However, if your M1 Mac hasn't checked into Kolide for a while, or you see you haven't received the update yet, we encourage you to re-install the agent. You can request a new agent installation package via the following mechanisms:
If you have the Slack app enrolled, simply message the app the command enroll and you will receive an up-to-date package for your selected environment.

If you are a Kolide admin, you can access the installation packages by browsing to the Downloads section of the app.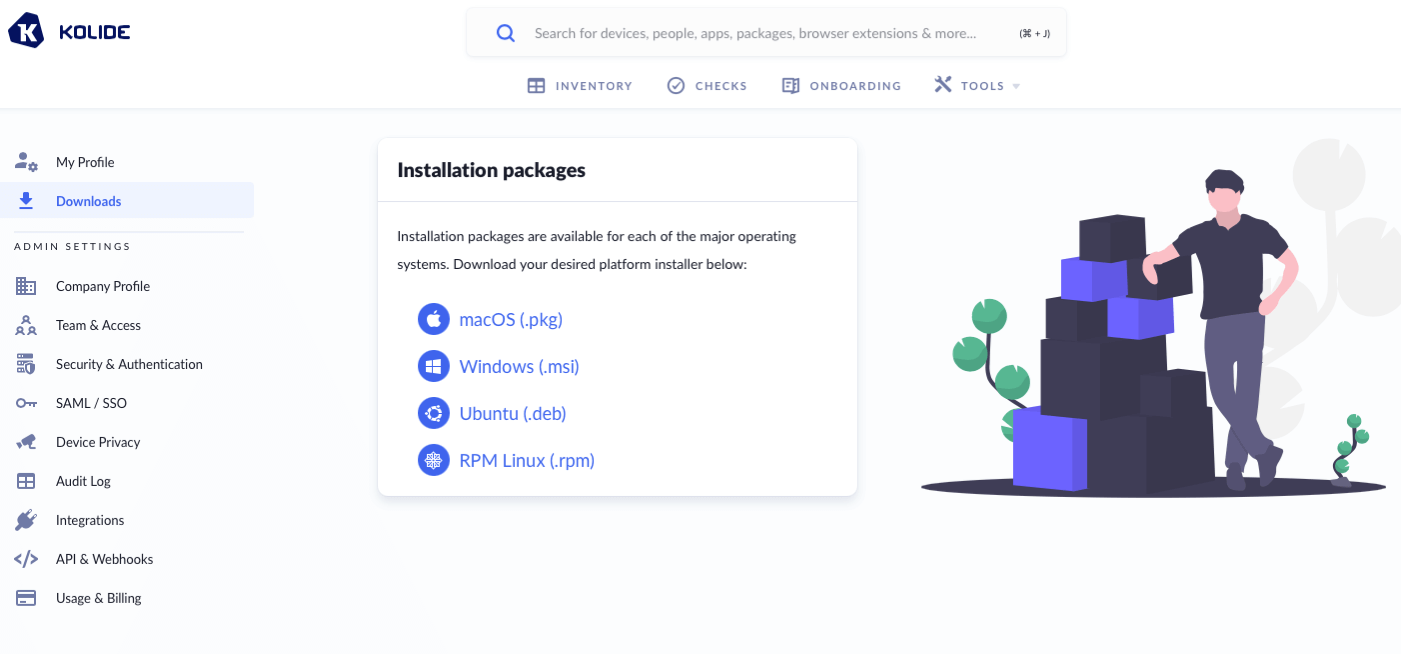 After the M1 Macs were released, we noticed a few discrepancies in the reporting data about the status of the Find My Mac feature and battery health. Kolide has resolved these issues in our agent and back-end.
Please let us know if you have any questions or concerns about M1 Macs! From all of us at Kolide, we hope you all have a safe and happy holiday season!