Starting today, when you enroll an AWS EC2 device into Kolide (or an existing EC2 devices checks in), Kolide will collect additional information about that instance, that you and your team may find useful.
Bringing this information to Kolide is part of our commitment to displaying as many accurate and relevant details about enrolled devices as possible to ensure you have an accurate understanding of each the the assets you've enrolled.
If a device is an AWS EC2 instance, instead of showing a generic VM hardware type (usually HVM domU) we now indicate it's an EC2 VM and display the instance type and size.
Also, instead of an image of a generic laptop, Kolide will now show the EC2 logo with the instance type superimposed.

We have built a simple widget on the Device overview page that will now display important information about the EC2 instance, including its associated AWS Account ID, Region/AZ, and the precise time the instance was launched.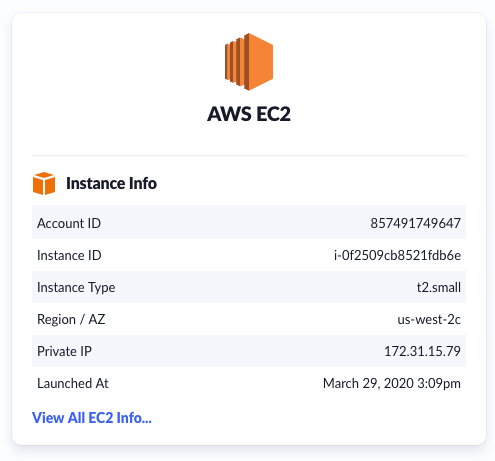 In addition to these details, Kolide will collect and display the primary public SSH key used to access to the device (which we calculate an MD5 fingerprint to make it easier for you to cross correlate with the User SSH Keys inventory)
To see all the details collected by Kolide, you can browse the main inventory category at https://k2.kolide.com/x/inventory/ec2_instances.
If you are unfamiliar with Super Duper Search, it is the global search capability at the top of Kolide's navigation. This search feature can help you find devices, people, and installables (apps, packages, extensions, etc.) by just simply searching their name or other relevant unique details.
With this update, you can now search for EC2 instances by their instance ID and their primary MAC address.

Have feedback on these features, or wish we were doing more for AWS devices? Let us know! In the meantime, we hope these additions make your experience enrolling AWS devices a little bit better.