Changelog
Support for the New M1 MacBook Pros
Know some lucky ducks 🦆 in your company that happened to get their hands on one of the new M1 MacBook Pros this week? Well, we just got a few in at Kolide and we couldn't wait to add first-class support into our product.
The new M1 MacBook Pros are the first Macs to feature Apple's new randomized serial number format. Unlike the old format which was 11 - 12 characters long and encoded a wealth of information about the device, this new format is shorter and, well, random!
So now, instead of using portions of the serial number to determine things like the Mac's product name (ex: MacBook Pro (16-inch 2019)) we have upgraded our approach to pull this information in its new location, the I/O Registry. Everything should "just work!"
These new MacBook Pros feature two variants of the M1 CPU, the M1 Pro and the M1 Max. Previously, Kolide did not feature the true name of the CPU in our Device overview page; but now, we not only have the correct name for the chip, we also show you the logo!

Additionally, for all Apple Silicon processors, Kolide now reports the number of performance cores and efficiency cores.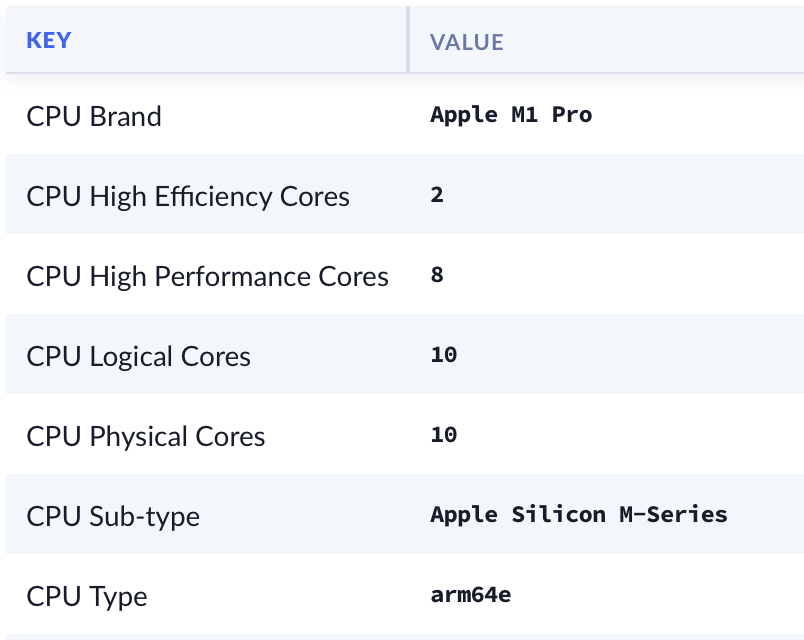 We've always been a stickler about using the real product images for enrolled devices whenever possible. In keeping with that tradition, we now have updated our product image catalog to include all current Apple Silicon Macs!
Our endpoint agent has natively supported Apple Silicon for a while, but while we are waiting for osquery to release an arm64 build, we have updated our installation package to correctly pre-install Rosetta2 if needed on M1 Macs running Monterey. This is super helpful in situations where you are deploying our package via an MDM on a brand new device.
---
As always, we hope you enjoy the update. Please reach out if you have any ideas about things you'd like to see from these new Macs.
Until next time!