Happy Monday everyone! We are starting this week off with several key improvements to the Checks section of the app. Check it out!
Kolide's checks page just got a lot easier to use with the introduction of checkboxes! If you've ever found yourself in a situation where you want to make a change to dozens of checks at once, but instead needed to change each check, one at a time, this feature should dramatically speed up the process.
Simply select the checks you want to action, and as soon as you do, a new menu will appear allowing you to add/remove Tags, change Notification Strategies, and alter the check's Status.

That's it! Don't worry, there's no catch. Audit logs and any other events will still be created as if you were performing these actions one by one.
You may have also noticed lately that the checks page received a small visual upgrade. Each check now features a representative icon, making it easier to visually scan the list and find the checks you need.
Additionally, we've also changed how we've named our checks. In the past, a Check's name was the same as the name of the Issue we would generate if the Check was in a failing state (eg. macOS Firewall Disabled). We (and many of our customers) found this confusing, so instead checks are now named after the underlying objective they are looking to achieve.
To accommodate this change, we've also flipped the percentages to now show the percentage of devices passing a check. This means the higher the number, the better your organization is doing!
We've added the new names and the icons to the global search as well!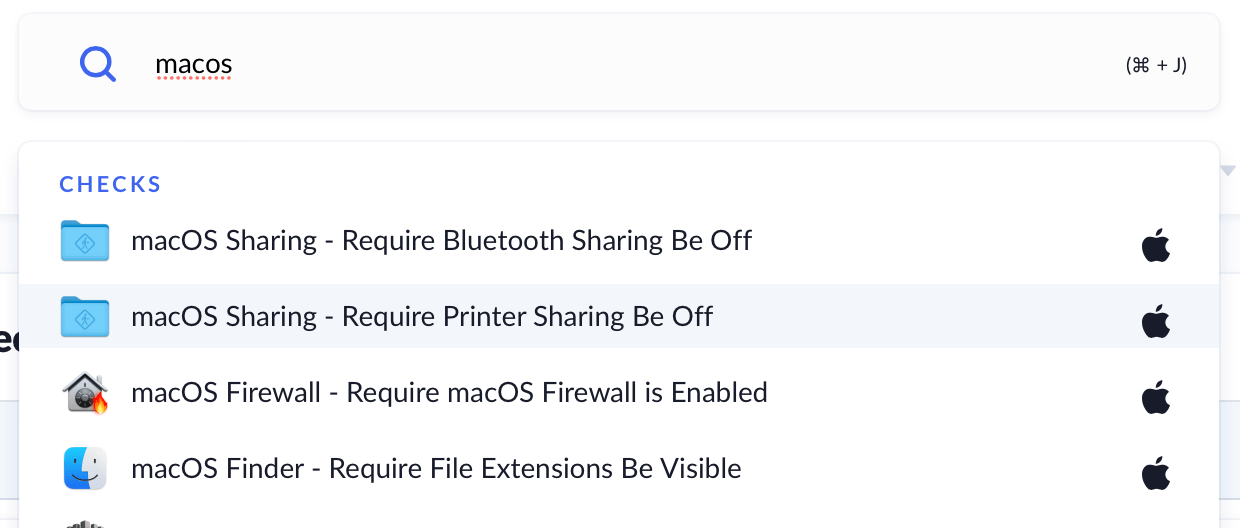 For our API users, we've added a new API column called display_name which will include this new naming convention.
Checks get their icon's through their membership to a new concept called a checklist. This is a way for users to logically groups checks so that they are easier to discover. Unlike topics, a check can only belong to a single list. You can now easily filter checks by their list in the side-bar.

---
These changes are all helping us build towards the expansion of checks that we offer to our customers. Keep your eyes peeled for more improvements before the end of this year!