Changelog
New: macOS iCloud Settings & Windows Security Center Widgets
We recently shipped three new widgets on the Device details page: two for Windows Devices, and one for macOS.
Widgets are our way of visualizing and summarizing information that we collect about devices via the Kolide agent. We created these widgets with the goal of giving Kolide administrators relevant, accurate, and glanceable information when viewing a specific Device's details. 
Below is a quick summary of three new widgets.
This widget shows you the iCloud information for the primary user of your device (if available). This information is not only helpful when determining whether an employee has a work-based or personal email associated with their device, you can also glance at what services are syncing content from their device to their iCloud account. This is especially useful if you do not want users accidentally syncing work-related files to their personal iCloud Drive.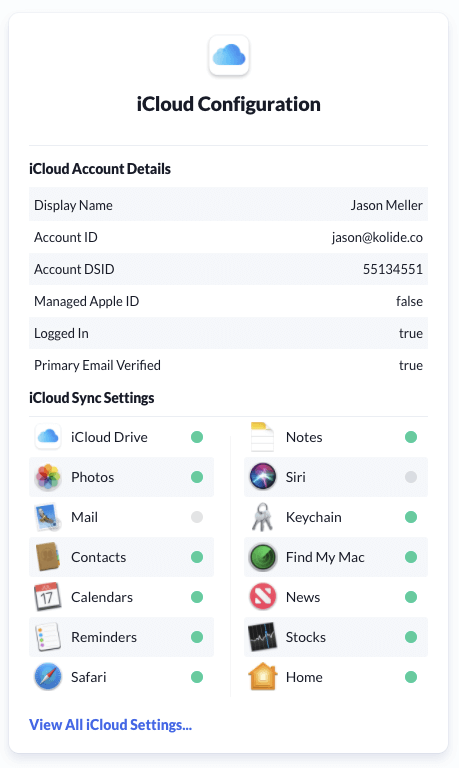 Microsoft Windows has a handy API which allows Kolide to see the products that take on the role of the primary Firewall provider or Antivirus software. While Kolide has been collecting this information in Inventory for a while, we felt that we should be visualizing this information on the Device's detail view. Not only can you see the product names, but we can use this API to inform you if the signatures are properly updating.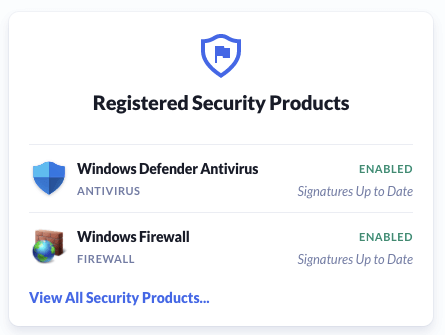 ## Windows - Security Center
Unlike the other two widgets that visualize previously collected information, this widget contains new information from a recently added Osquery table we contributed to the project a few months ago. This table allows Kolide to enumerate the health of subsystems monitored by the Windows Security Center. We can now can summarize this information concisely in the widget below.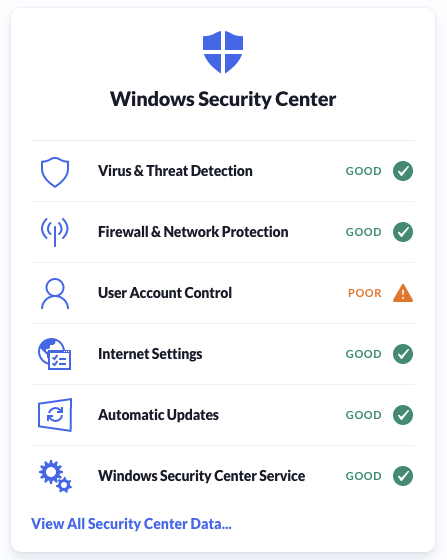 As always, we hope you find this information useful and easy to digest as you peruse your Windows and Mac devices enrolled in Kolide. If you have suggestions, or feedback about these widgets, or have specific requests about additional information you'd like to see make our short-list, please let us know.