Changelog
Untrusted Extension - the Great Suspender
Making the rounds recently on Twitter was a tweet concerning a popular Chrome Extension, The Great Suspender.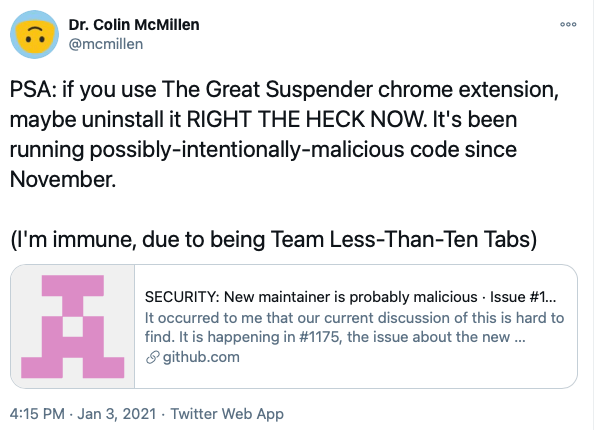 The thread outlines an all too common situation. The author of a once beloved Chrome Extension sells their ownership interest to a third party, who then updates the extension to include spyware. In the case of The Great Suspender, this potentially includes transmitting the end-user's browsing history, and even modifies the web pages you visit directly in the browser.
Luckily, the user community caught these changes in The Great Suspender and pressured the new owner to back these updates out. With that said, it may be only a matter of time before those same malicious capabilities might be deployed once again.
To that end, Kolide is shipping a new Evil Chrome Extension Check for this extension, preloaded with an end-user notification you can deploy to help your employees understand the situation, and uninstall the extension if it is present.
If you would like to know more about this specific extension, feel free to check out the best comprehensive article we've found on the subject on LifeHacker.