The Humans Behind Kolide series features interview-style blog posts with the humans who build our product and make it work. Get a behind-the-scenes look at who we are and the culture at Kolide.
What were you doing before you started working at Kolide?
Before I came to Kolide, I was finishing up my Masters of Computer Science, working as a self-employed Flutter/Dart developer while also teaching computer science courses to undergraduate students. Before that, I worked in finance. My bachelor's degree is actually in economics, and switching to the computer science field is one of the best decisions I've ever made.
How do you spend your time outside of work?
Outside of work I'm probably doing arts and crafts, at the gym, or doing something outside. I have a craft room in my basement, and I enjoy just disappearing down there and making things. Usually this is after I've been making things for Kolide all day. So the making of the things never really ends, and that's how I like it, really. I actually have a studio art minor from college and I do everything from painting, sewing, printmaking, to drawing and fiber arts (and more!).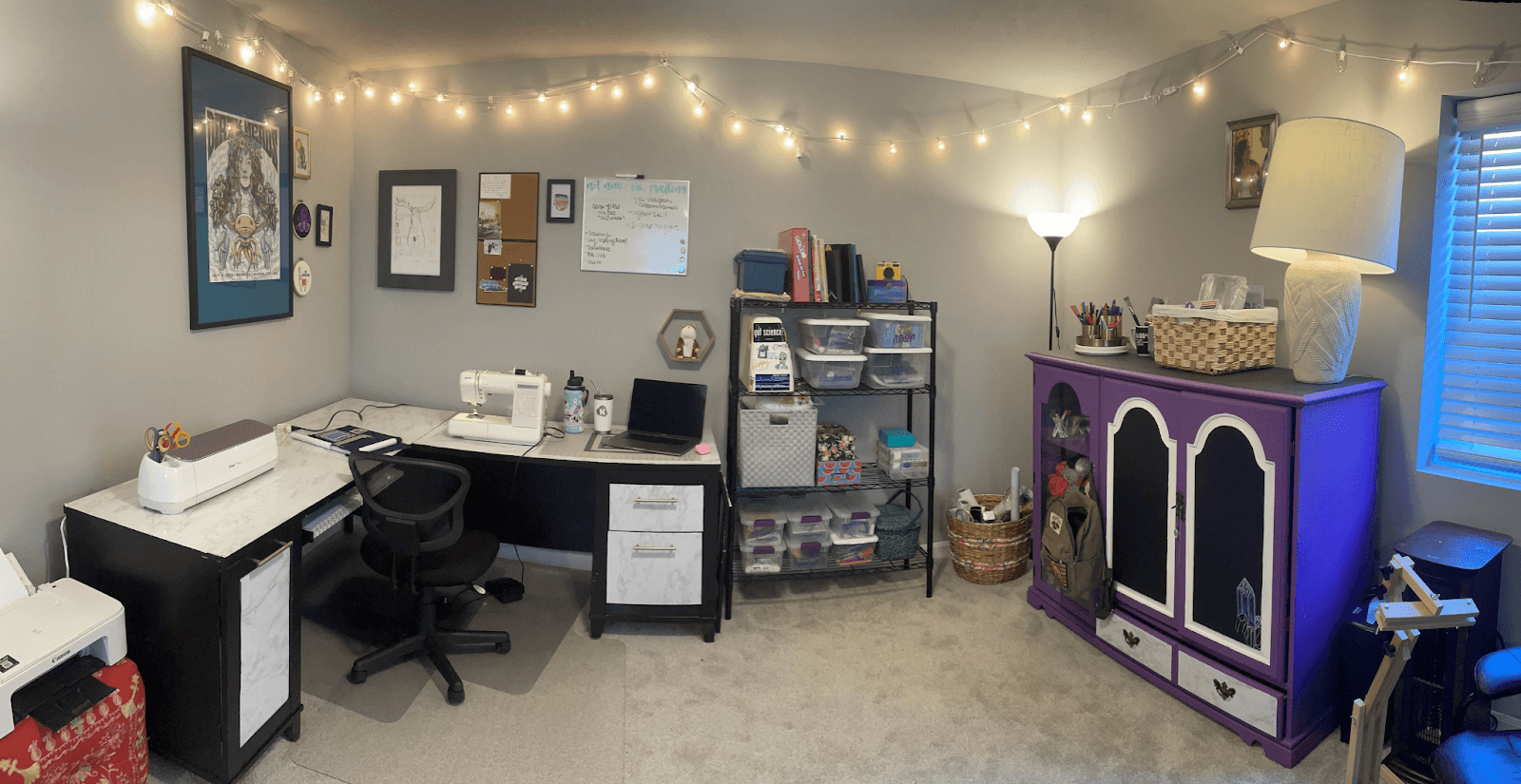 My sports of choice are olympic weightlifting and powerlifting (yes there is a difference) and I usually do 3-4 competitions a year. It's a wonderful outlet and I always feel more creative and inspired after a good training session.
I also enjoy all things outdoorsy- hiking, kayaking, paddle boarding, mountain biking, etc. Usually my dog, Shadow, is with me for those adventures. Here's a picture of us in matching hoodies for her 5th birthday.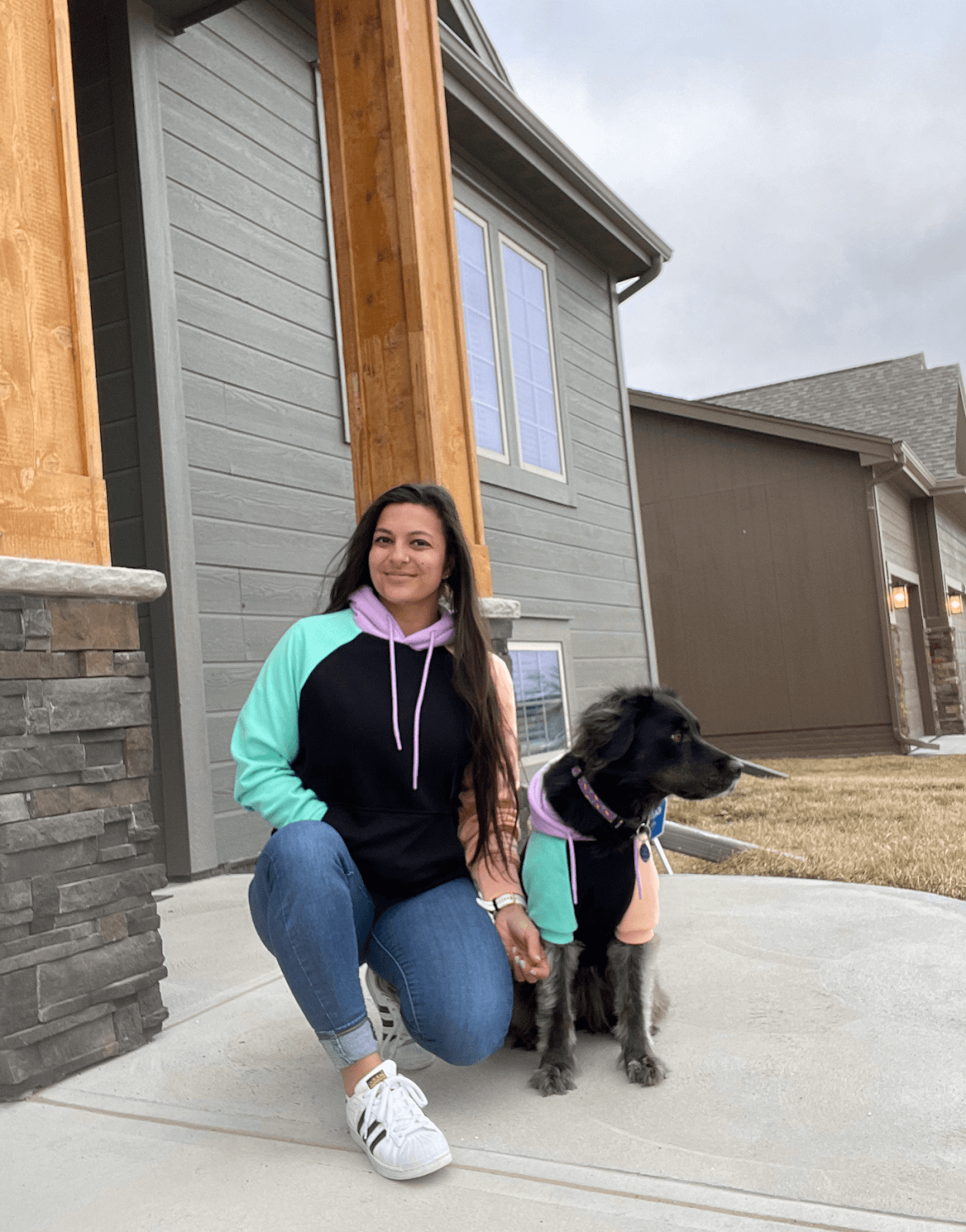 What arts & crafts are you working on right now?
I'm currently taking a pottery class. Right now I have about half a dozen coffee mugs I've made on the wheel that I'm working on glazing and adding handles to. I also like to have one cross stitch project and one crochet project going at the same time. Currently, I'm working on crocheting a granny square blanket and a cross stitch piece that says "I can automate that."
Any weight lifting competitions coming up? How do you train for these?
I have a competition coming up in September. As far as training goes, I'm in the gym 5 days a week for 1-2 hours when I'm in competition prep. My gym has wonderful coaches who write all the workout plans for my team, so it really comes down to following the workouts, showing up, asking questions, and making sure my sleep and nutrition are where they need to be.
What does your day to day look like?
Usually, I like to listen to a news podcast in the mornings while I open up windows, check emails and messages. I'll follow up with anything from the day before, then I'll usually tackle things that need my immediate attention.
After I get settled in and any immediate things taken care of, I'll consult my planner and start getting into deep work. I'll touch base with coworkers and ask questions as needed. We have very few meetings per week so my days are open to write features, work on projects and make my way down my to-do list for the day.
I also like to take a lot of walk breaks during the day, weather permitting.
At the end of the day, I'll circle back with my planner and write out any tasks for the next day, then I wrap up for the day.
Favorite Slack Channel?
Honestly, it's a tossup between #crafts, #random, and #pets I really like seeing what my coworkers' interests are outside of work, and the pets of Kolide are all adorable.
What are you most looking forward to in the next 6 months, personally, professionally or both?
I have some weightlifting competitions coming up at the end of this summer and in the fall, which I am excited about. I am also speaking at a conference this July! [Editor's note: Caitlin is being modest. She is the KEYNOTE SPEAKER at that conference.] As for Kolide projects- I'm looking forward to continuing with some other projects such as supporting multiple devices in our privacy center.
What are 3 words that describe what it's like to work at Kolide?
Fun, exciting, positive.