The Humans Behind Kolide series features interview-style blog posts with the humans who build our product and make it work. Get a behind-the-scenes look at who we are and the culture at Kolide.
---
Harlie has been a Senior Endpoint Security Analyst at Kolide since December 2021. She grew up in Fort Mill, SC but currently resides in Pine Mountain, GA. She likes spending her Sundays with family and resetting for the week ahead. In her free time that isn't spent chasing a toddler, Harlie enjoys playing cozy games, crafting, cooking, and reading. Right now, she's having fun painting and playing Bear & Breakfast.
---
You've been at Kolide for over a year now! What brought you to join us?
I was first introduced to Kolide when I was working for the security team at 1Password. We needed an endpoint security solution but we were also very adamant about preserving end user privacy. Along came Kolide, and I eventually took over the implementation project. I like to think I got to know Kolide and some of the team well during that time. I even went on the MacAdmins podcast with our CEO, Jason, to discuss 1Password's experience with Kolide.
When I felt it was time for something new, they were the obvious choice. I wanted to work for a company with a mission that aligned with my personal values (Honest Security, anyone?). I checked their job openings and lo and behold, there was one for me! I submitted my application, we had some chats, and the rest is history. Kolide and I have been two peas in a pod ever since!
Tell us a little bit about what your day to day looks like at Kolide.
One of the things I like most about my job is that every day looks a little different. My role at Kolide is Senior Endpoint Security Analyst, which is fancy talk for "I write the checks that run on devices."
From start to finish, writing a check looks like this:
1. Research - This is often the longest part of the check writing process. I spend this time understanding what this check is meant to accomplish, what information we need to collect, if gathering that information requires work in other parts of the product, how that information impacts end user privacy, and so on. We usually gather data in a number of ways, like scouring the interwebs, testing against our devices, and working with our customers. Spending a little extra time in the research phase ensures we're making a check that is actually useful and works as intended.
2. SQL writing - I'm willing to bet that when I said I write checks, you assumed I live eternally in the SQL writing step. In reality, I would say only a third of my time (or less) is spent here. Yes, this is the meat of our checks. But with the right time spent in the research phase, this part can go pretty quickly. Every once in a while, we get a tricky problem we need to solve and get to play with some fun osquery/SQL magic to solve it (Many of which are documented in the tutorials category of our blog.
3. Documentation writing - By now you're probably thinking "Wow Harlie, a researcher, developer, and writer? You're a jack of all trades!" You would be right. I'm also very humble. Writing the documentation is probably my favorite part, because in a way, I'm directly interacting with the end users. I used to be a security trainer and really enjoyed it, so this feels like in a way I get to keep doing that!
4. Testing - The best (or worst) step! We take all of the hard work and put it to the test. We test against more devices, have other developers review the code, and make sure it passes our automated tests. It feels good to see it all come together. Or sometimes, you realize you missed a tiny detail that changes everything and have to hide under your desk for a few minutes before regrouping and trying again. But it's just part of the process, a very important part at that.
5. Send it! - Once we've crossed our i's and dotted our t's, it's time to get those changes out the door. You get to sit back, appreciate your hard work, and then start the process all over again with another check. But it never feels like the same process. The next one may be for a different operating system, a new system setting, or detecting configurations for software I've never even heard of. So I don't mind the cycle, I'm always excited to start the next check and learn something new. Bring on the next challenge!
What have you been most proud of that you worked on here?
I'm a huge advocate for end users. As I shared above, I was a customer of Kolide before I was an employee. Because of this, I feel like I offer the unique perspective of what it's like being on the other side. There were some things I thought we could be doing better for our users, and I'm happy to say we have improved. I'm proud of many of my accomplishments here, but being that advocate for end users and actually seeing changes happen is a great feeling.
How many little pink hats do you own?
20 tiny pink cowboy hats! I acquired these hats while looking for something interesting to put on top of my headphones. Instead of buying a pre-made headphone accessory, I bought a 20 pack of miniature pink cowboy hats. It's since become a bit of my brand to have a tiny pink hat nearby. I've also learned that everything looks better with a tiny hat.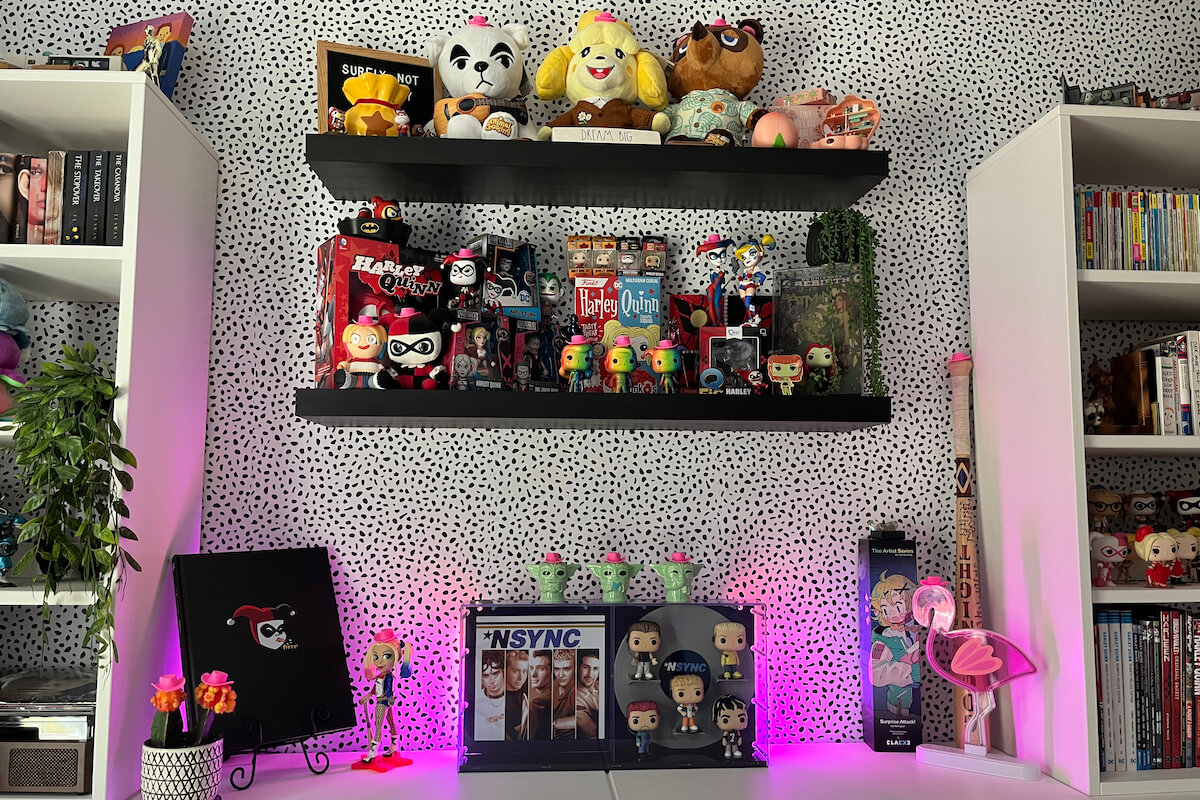 I spy… something(s) pink!
Tell us about any pets you have, please.
My oldest dog is Rambo, he's an 8 year old yorkie poodle mix. You can often find him begging for cuddles during video calls or being a grumpy old man under my desk. I think the reference for his name is self explanatory, but I chose it because I liked the idea of naming a tiny, fluffy dog a very aggressive name.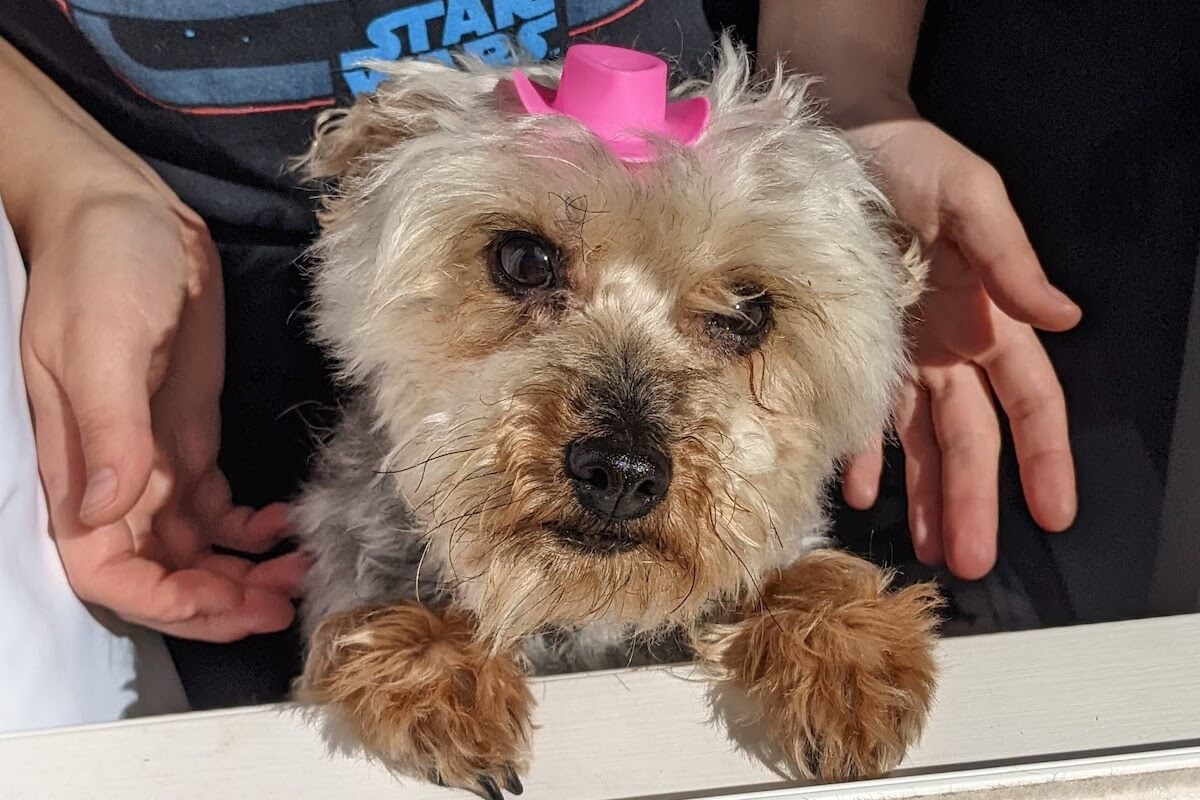 Rambo was not able to escape the hatting. Sorry, buddy.
The middle child is Daisy, a 6 year old miniature dachshund. Her favorite game is coming up to you like she wants you to hold her but then running away when you reach for her. I call it "Don't touch, just pet." Her name comes from one of my favorite books/movies, "The Great Gatsby".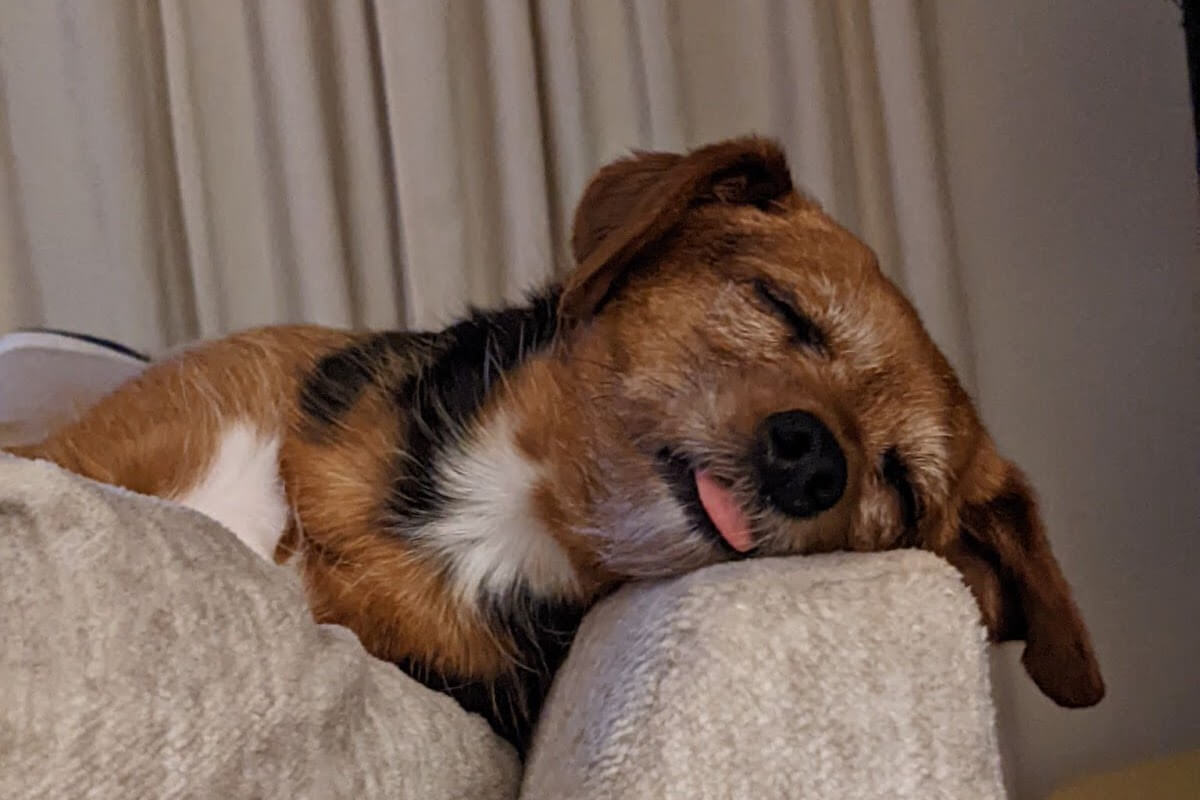 Daisy giving good snoozes and tongue bleps.
My youngest is Isabelle, or Izzy. Izzy is about 3 years old and the chaos child. She is smart, sweet, and has no sense of boundaries. Isabelle was a rescue that came to me with the name "Isabella", which is luckily close to one of the core characters of Animal Crossing, my all time favorite game. She also responds to Pete, though. One time the groomer cut her fur really short and when she got home my daughter didn't recognize her. When I asked who it was, she said it was Pete. It just kind of stuck. And yes, my daughter now knows that we didn't trade Izzy for Pete and they are, in fact, the same dog.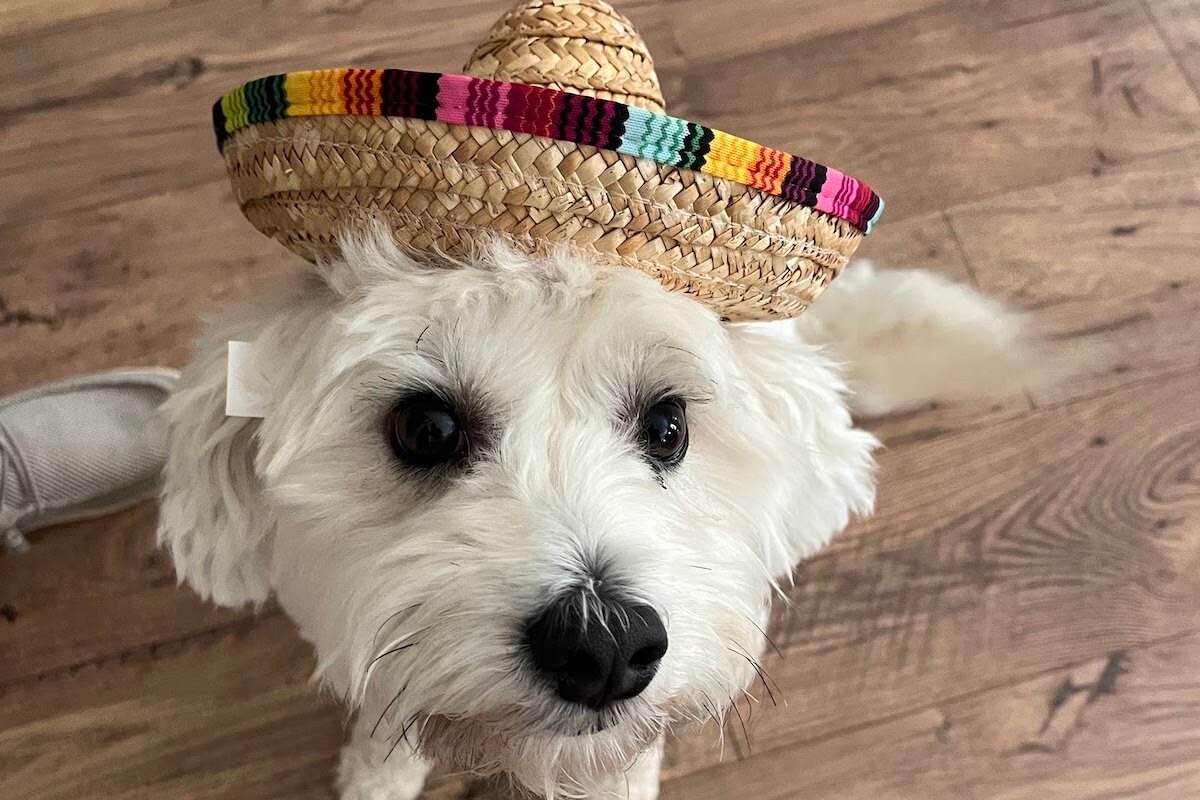 Izzy in a sombrero. I'm not biased, any small hat gives me serotonin.
When you were a kid, what did you want to be when you grew up?
I always knew I wanted to use my creativity, but I never had a strong direction of how that would transfer into my future career. The idea that stuck around the longest was broadcast journalism. From elementary school all the way up to college I was involved in the school's news, yearbook, and newspaper teams. I had a newsletter named Harlie's Herald that I made for my grandparent's retirement community. I went as far as being a communications major for a while in college and almost working at a local newspaper. When they offered me the job I got cold feet and said no because I would have to sell a lot of print ads. I ended up changing my major after I took a computer science elective and realized how right it was for me. I haven't looked back!
What has been your favorite moment at Kolide so far?
There's too many good memories to choose from. But if I must, meeting everyone for the first time last year in Austin, TX was a "core memory" of my Kolide experience. It was when I really learned how awesome and genuine everyone on the team was, they really were who they portrayed over Slack (albeit a bit taller than I imagined for some). Getting to know people over dinner and watching some of us bravely take on karaoke night were unforgettable experiences that I look back on fondly.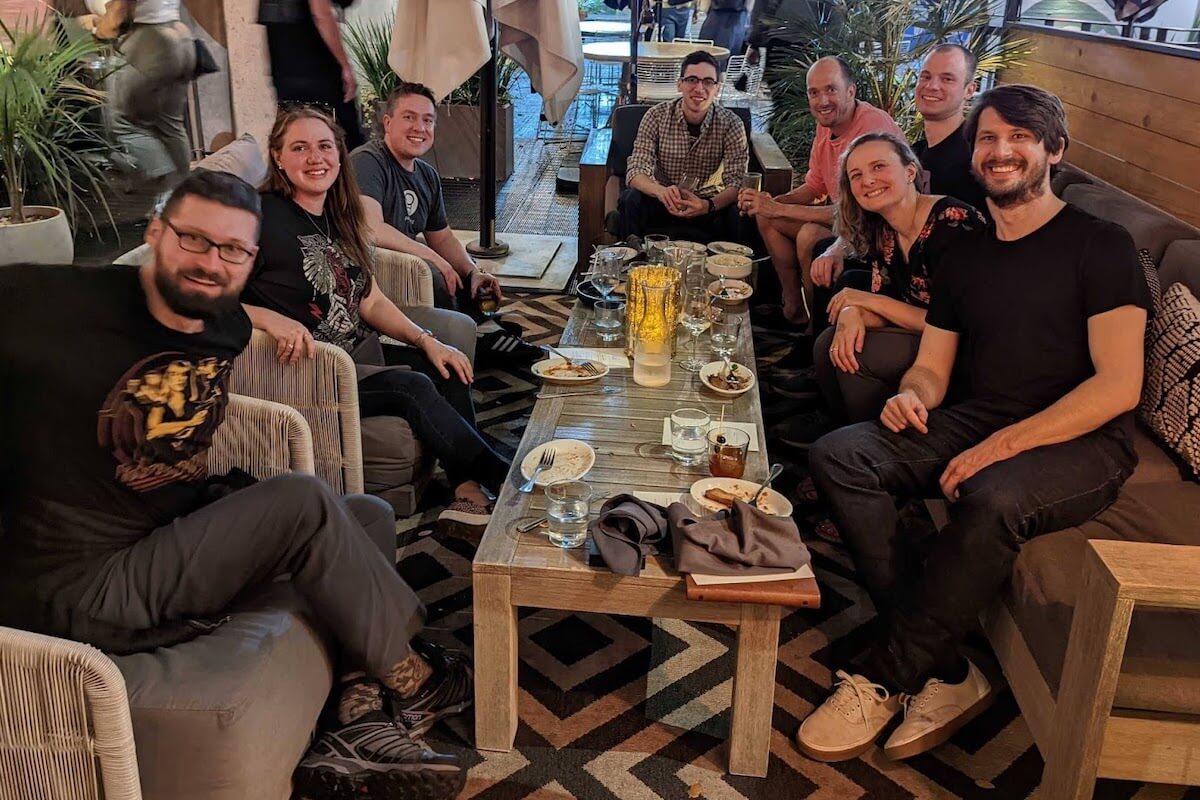 Some of the Kolide team on the first night in Austin. There's me, second from the left!
Favorite Slack channel?
I really love #random because it's a dumping ground for whatever is on people's minds. You get movie reviews, weekend plan recaps, sharing recipes, and more. That's where you get a feel for who people are and what they're excited to share, because there are no rules!
A very close second is #pets, because I love seeing everyone's animals. I want to give them all very big hugs and tell them they're the best buddies ever.
Any thoughts for folks who are thinking about joining the team?
What are you waiting for?
But really, I grew to admire Kolide as a company and their product from the outside. Once I joined, I quickly realized it was even better on the inside. Every one of us are not only hardworking and intelligent coworkers, but amazing humans to boot! I couldn't think of a better place to work. Seriously, I get excited for Mondays. So I'll say it again, what are you waiting for?!