The Humans Behind Kolide series features interview-style blog posts with the humans who build our product and make it work. Get a behind-the-scenes look at who we are and the culture at Kolide.
---
Sam joined Kolide in March 2022 as our Lead Designer. He currently lives in his hometown of Minneapolis, MN but has also lived in Germany, Namibia, and Japan. His Sunday routine starts around noon when he rolls out of bed to make a smoothie before going on a long afternoon bike ride. He spends the evening visiting family for dinner and a movie or show, then winds down with some video games before bed.
Sam is celebrating his one year anniversary at Kolide, so we asked him to share a little bit about himself and his work.
---
Before Kolide, you were a graphic designer at a t-shirt shop. Where else have you worked? What brought you to join us at Kolide?
Believe it or not there is a common thread that connects my past employment to my current work at Kolide, and his name is Hunter Braun. To preface this, about a decade ago I had just returned home from two years of teaching English, biology, and art in Namibia with the Peace Corps when I landed a job working as a graphic/social media designer for Wheaties at General Mills. It was there I collaborated with a fantastic bunch of folks, including Hunter's future partner. Eventually I left this job to go teach English abroad AGAIN (this time in Hokkaido, Japan), but I stayed in touch with these fine folks. When I returned home once more to work at a local apparel company some years later, Hunter reached out to me to see if I was interested in doing some freelance illustration work for a cybersecurity startup he was working for. I accepted, and a couple months later we were hanging out playing Elden Ring when I made an off-hand comment that work had been making me draw an abnormal amount of Baby Yodas lately, and I'd been thinking about looking for a new job. The next day I was in a meeting with Jason and got an offer right then and there. The rest, as they say, is history.
All of the artwork that you've done here is stellar. Do you have a favorite? Why is it your favorite?
It's generally not a good idea for me to get too personally invested in my professional work for various reasons, but I'm pretty happy with how the cover illustration for the "Is Your Security Awareness Program a Total Snoozefest?" blog post turned out. You don't need to be an artist to understand that it can be pretty challenging to physically manifest an idea or image in our heads accurately, but I think that one captured the mood and atmosphere we were hoping to portray pretty well.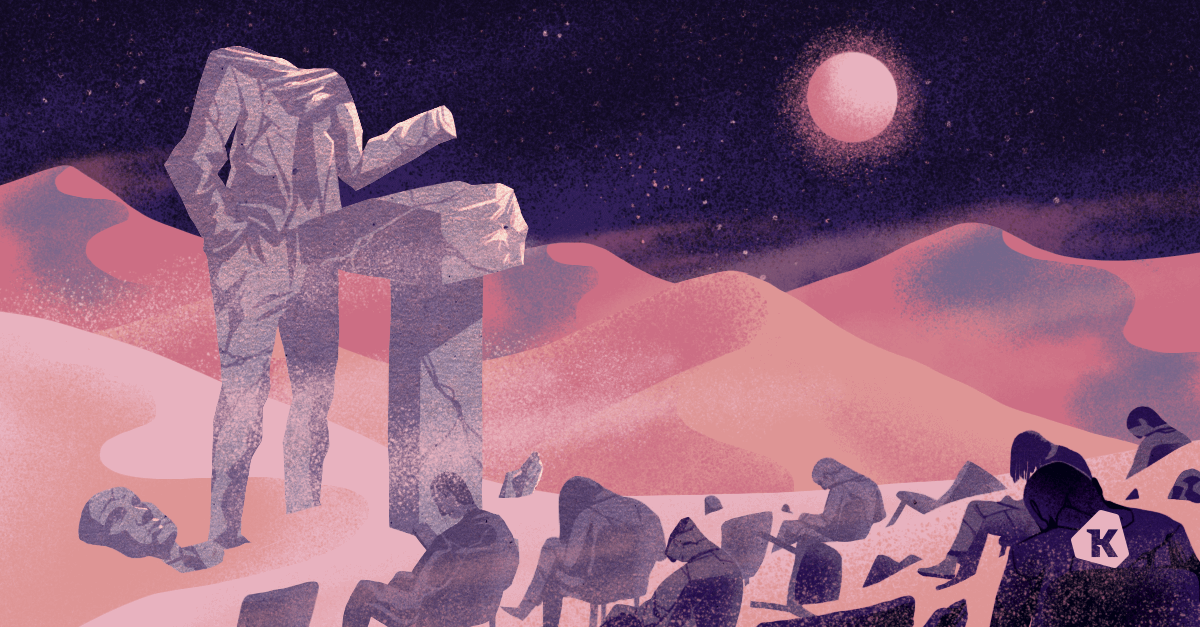 One of Sam's favorite illustrations he's done at Kolide is the "Is Your Security Awareness Program a Total Snoozefest?" blog cover.
Now that you've been at Kolide for a year, what have some highlights been?
Definitely the meetups. I've heard people mention the only downside to working here is that everyone works remotely, and to be honest that didn't really seem like a downside, but everybody on the team is super awesome and talented so it's really nice to have the chance 2-3 times a year to meet in person and collaborate with folks—especially now with all these new people joining the team. The Thursday All-Hands meetings are great for that too, but it can't always replace real-life people time.
At what point growing up did you know that you had talent for creating visual art? Were you born with a crayon and paper in hand or did it take time to develop?
It's just something I kind of always enjoyed doing and was fortunate enough to get encouragement to be able to make a career out of it, but like anything worth doing it definitely took practice and time. I do believe there are probably people out there that are just innately gifted at art and design (I don't consider myself one of them) but I also think that generally speaking, anyone that is motivated enough to study, learn and keep practicing and experimenting with techniques can get pretty good at it too. Having access to tools and resources definitely helps too of course, and I've been privileged enough to use these, but my family and friends were also there for me. To quote Kevin Smith, "It costs nothing to encourage an artist, and the potential benefits are staggering."
How many kiwi birds do you think you've drawn since you've been here?
Way more than I was expecting and way fewer than the number of Baby Yodas I drew at my last job.
Any thoughts for folks who are thinking about joining the team?
I was actually quite nervous to leave my last job for Kolide at first, since I knew startups can stereotypically be kind of unstable work, and the offer seemed too good to be true. But seeing where I am now and the things I get to work on, I have never looked back. As long as you don't mind working from home and using Slack, I think most people would be hard-pressed to find a more supportive team to work with. I'm just grateful I get to wake up and make cool art every day for my job.